Old Hickory Lake Home

Old Hickory Lake Info



* NEW *

Old Hickory Lake Maps

Old Hickory Lake Marinas

Yacht & Boat Charters

Old Hickory Lake Campgrounds

Old Hickory Lake
Real Estate

Old Hickory Lake
For Sale by Owner

Log Home Sales

Home Furnishings & Designs

Fireplace Mantles

Old Hickory Lake
Construction/Builders

Old Hickory Lake Vacation Rentals

Old Hickory Lake Motels

Old Hickory Lake
Fishing Guides

Old Hickory Lake Dock Builders

Old Hickory Lake Boat Lifts

Old Hickory Lake Fishing Reports


Contact Old Hickory Lake
Privacy Policy

Area Attractions
Horseback Riding

More Great Lakes of the South

Old Hickory Lake Guestbook

Something to
think about!

Web Design & Hosting
Service







Eagle Boat Docks, LLC
Custom Docks and Component Parts



EAGLE BOAT DOCKS, LLC
2360 Maynardville Highway
Maynardville, TN 37807
Ph: 865-992-9262
Fx: 865-992-9272


Email: eagleboatdocks@comcast.net
www.eagleboatdocks.net


Welcome to Eagle Boat Docks! Our office and manufacturing facility is located at 2360 Maynardville Highway, just a few miles northeast of Knoxville, Tennessee, on the main route to beautiful Norris Lake.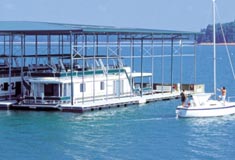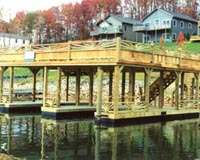 Specializing in custom built boat docks, we can provide you with everything from a 10' x 10' swim platform all the way up to a multi-slip marina facility. All of our docks are based on standard sized and modular components, which can easily be bolted, pinned or welded together to create your dream dock.

Eagle Boat Docks also builds custom dock kits for self assembly. We carry a full line of dock hardware, floats, parts, ladders, cleats, and accessories. Boat lifts, Jet Docks®, and sun shades for personal watercraft are available. We deliver within a 60-mile radius and can provide on-site consulting for your project.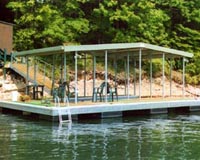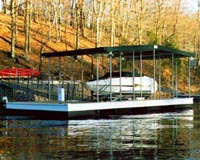 How about a floating cottage, a boathouse, a party dock or some other waterfront recreational amenity? Take a good look! We'll introduce you to a whole new world of fun and relaxation on the water. Dream a bit, and then give us a call. Or just stop by the shop and visit. We'd love to work with you!



Please visit our website at www.eagleboatdocks.net for more information

Eagle Boat Docks, LLC
865-992-9262