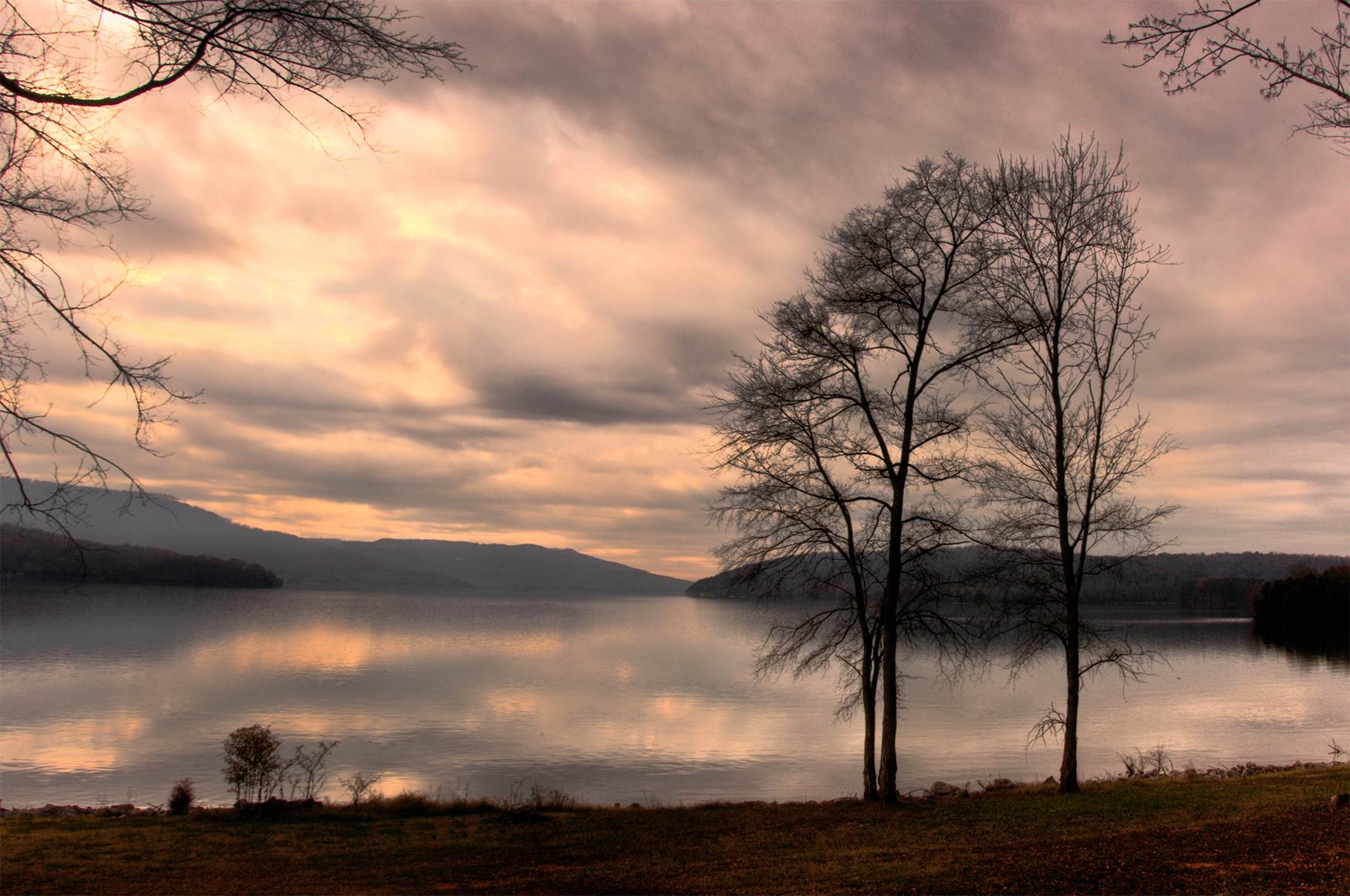 Welcome to Nickajack Lake Info
---
If you are looking for information and cannot find it on this site please click here.

Nickajack Dam is located about 30 miles downstream to the west of Chattanooga, and was built to replace the old and leaking Hales Bar Dam located about six miles upstream. The Hales Bar Dam lock and power house are still visible above Nickajack Lake. The lock has since then been converted to a coal barge terminal.

Construction of the reservoir began April 1, 1964 and the filling of the lake began September 14, 1967. Two days after closing the gates on the dam the lake was full. The initial cost of the Nickajack Reservoir project was $73,000,000, and took about 6.7 million man hours to complete.

At the time of construction of the Nickajack Dam, plans were being made by the TVA for future growth and a 110 foot by 800 foot underwater structure for a lock to be created at a later date when it was needed.

Nickajack Dam contains four hydroelectric units generating 96,000 kilowatts of electricity.

The lock at the Nickajack Dam is 600 feet by 110 feet and is used for navigation of barges and towboats down the Tennessee River. The lock can lift as many as nine large barges at one time 41 feet above Gunther Lake. Some of the commodities passing through the lock are soybean oil, coal, steel products, petroleum, pulp wood, wood chips and salt.

Nickajack Lake has a total of 215 miles of winding shoreline, 10,370 acres of surface area and is 46 miles long, extending up to Chickamauga Dam. The watershed (which is the area of land providing drainage to the reservoir) for Nickajack Lake is 21,900 square miles. Nickajack Dam was named for Nickajack Cave located about a mile upstream.

The counties surrounding Nickajack Lake include Marion County and Hamilton County.

The spectacular scenery of the Tennessee River Gorge, known as the Grand Canyon of Tennessee, offers a scenic backdrop for a variety of lake activities available on Nickajack Lake including boating, fishing, waterskiing, jetskiing, swimming, camping, public parks, public access areas, picnic areas and more. On both sides of the river below the dam are fishing berms and a concrete fishing pier with foot bridges and wheelchair ramps.